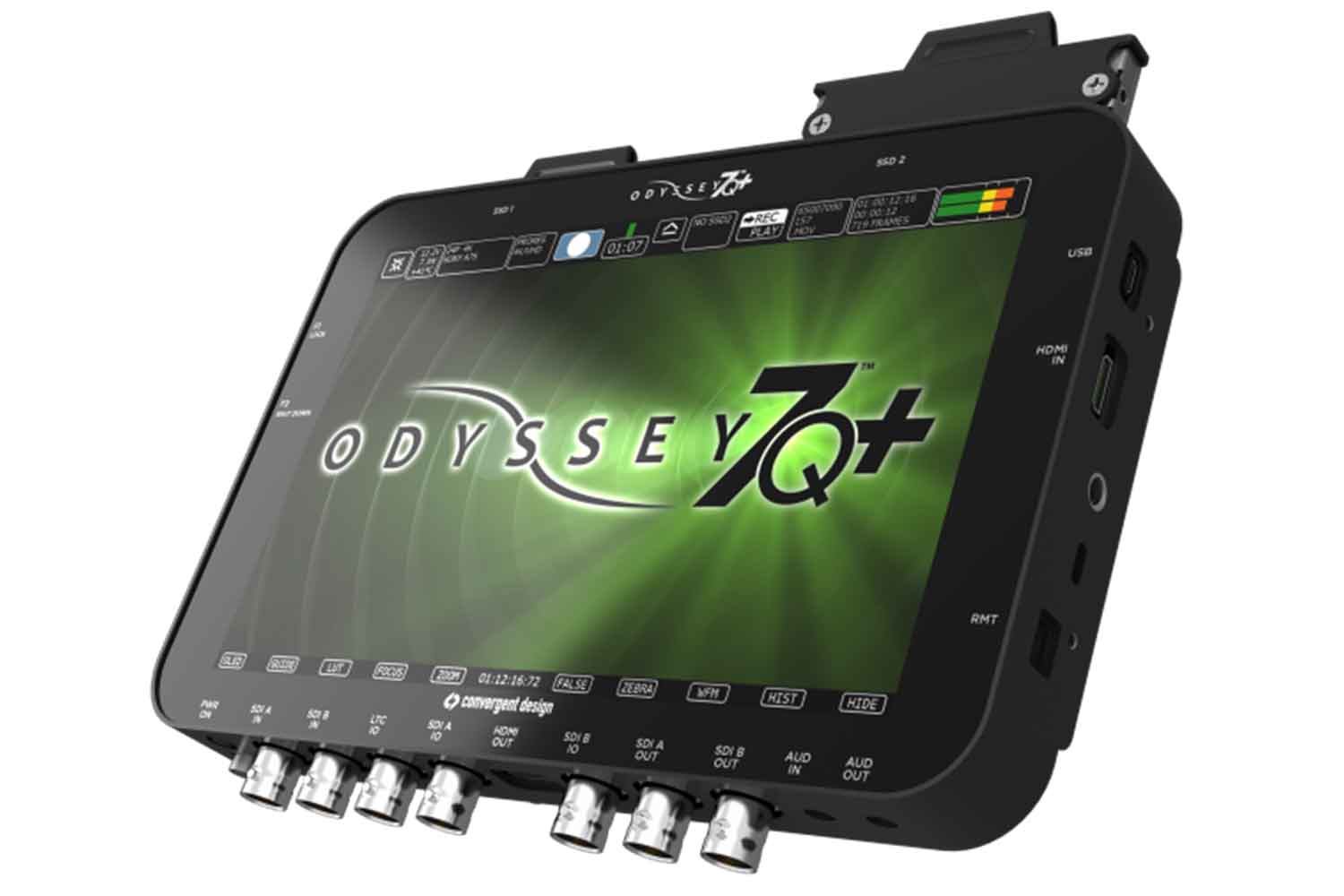 CinemaDNG, OLED Monitoring, LUTs
Native Indiecam CinemaDNG recording
2k RAW at 60fps
Smallest RAW-recorder
Longest recording times (2h/512GB SSD)
Live debayer preview and LUT control
Unlock the full potential of the indieGS2K with the Odyssey7Q+! This compact recorder and field monitor is the best and most powerful solution to record native CinemaDNG RAW footage from the indieGS2K camera.
It features rich metadata & timecode support as well as simple and sophisticated workflows. With the standard 512GB SSD-media you can record up to 2 hours for each camera.
Together with the indieGS2K, this is the smallest 2K RAW-recording setup, perfectly matching your visionary productions.
RAW-Recording
Indiecam native CinemaDNG recording directly from the indieGS2K is supported by the Odyssey RAW-Bundle. You can buy or rent the bundle, which includes a variety of RAW-Formats from other cameras as well (ARRI ALEXA, Canon C500, SONY, etc.).
The indieGS2K transmits RAW-Data via a simple 3G-HDSDI connection to the Odyssey7Q+. Included in this signal is a rich metadata-set, that is stored in the CinemaDNG files during recording and therefore available in post-production.

TechSpecs
| | |
| --- | --- |
| DISPLAY | 7.7″ OLED |
| | 1280×800, |
| | RGB 8-bit panel |
| | ~16 million colors |
| | wide gamut |
| | 3400:1 contrast |
| | 176° viewing, true blacks |
| SDI VIDEO I/O | HD-SDI/1.5G/3G support: Single/Dual/Quad Link inputs (HD/2K/Ultra-HD & 4K supported) |
| | Dual HD-SDI 1.5G outputs, Full size BNCs |
| RAW | CinemaDNG recording from indieGS2K via 3G HDSDI |
| | over 2h recording duration with 512GB SSD |
| HDMI INPUT/OUTPUT | HDMI I/O Version 1.4a support, 8-bit 422 |
|  LUT SUPPORT | ARRI LOG-C |
| | CANON C-Log |
| | Sony S-Log, S-Log 2, S-Log 3 |
| | Custom 3D-LUTs (.CUBE), etc. |
| FOCUS ASSIST | Video + Edges (Peaking) |
| ZEBRA | Dual adjustable zebra exposure indicators, selectable colors |
| FALSE COLOR | False color with 6 programmable levels & adjustable ranges |
| WAVEFORM | Luma only |
| | RGB Parade |
| | Red/Blue/Green only |
| HISTOGRAM | Luma only |
| | RGB Parade |
| | Red/Blue/Green only |
| MULTI-STREAM | Display for independent 1080 or 720 HD streams simultaneously (Quad-split with live switch capability |
| DIGITAL AUDIO I/O | 2-channel SDI or HDMI embedded audio (48KHz, 24-bit) |
| ANALOG AUDIO I/O | 3.5mm port for line level 2-channel unbalanced or 1-channel balanced input up to -10dB, 48KHz, 24-bit |
| | 3.5mm stereo headphone output |
| DC POWER | 6.5 to 34VDC |
| POWER DRAW | 8 watts (monitor only), 9 to 18 watts (depending on selected record mode) |
| WEIGHT & SIZE | 560 grams / 1.2 lbs., 7.9″ x 6.1″ x 1.0″ (200 x 155 x 25mm) |
| OPERATION | -10 to +40° (Operating), -20 to +70° (Storage) |
Related Products
indieDICE