HD video assist for Arricam LT - global shutter - HDSDI - 12 stops DR
High dynamic range
White balance presets
Automatic and manual exposure control
Flicker free
Mounts on the original device
indieASSIST is a HD video assist system for Arricam LT film cameras. With a sensor of 1920 x 1080 pixels, the resolution of indieASSIST is noticeable higher than of conventional video assist systems. This results in exceptional image quality. The system works internally with 14 bit pixel depth and outputs HDSDI 4:2:2 10 bit. It facilitates better judgment of the scene including focus and actors with high visible detail in shadow and highlight areas.
indieASSIST provides a superior image for the director and cinematographer on set, allowing them to judge each take while shooting on film. The high-resolution preview images show true colours and sharp, high contrast images.
The video assist system can output both 16:9 and 4:3 images without having to change the lens. The system directly fits on the Arricam LT as it is using the original ARRI mounting points. Other great features are for instance various white balance presets, automatic or manual exposure control and a simple user interface.
The system was conceived together with Cameramarket.eu as a result of the renewed demand for 35mm film cameras. As major productions are shot on film again there remains a gap between the high-resolution images recorded on film and the limited quality of SD video assists available for these high-end cameras today. Modern crews need HD video feeds from all cameras on set on the spot in order to be able to work properly.
indieASSIST was received with excitement by 35mm enthusiasts and film veterans at IBC 2018. Furthermore, the system is fully supported and endorsed by ARRI themselves.
Herman Verschuur from Cameramarket.eu distributes indieASSIST and takes pre orders as of now. Delivery of the first video assists will start at the end of October.
Further models for other film cameras like for example the Arricam ST or Arriflex 435 are in planning.
Tech specs
| | | |
| --- | --- | --- |
| Sensor | Size | 1/1.2" |
| | Resolution | 1920 x 1080 |
| | Readout | Progressive & interlaced |
| | Shutter | Global |
| | Pixel size | 5.86 µm |
| | A/D converter | 12 bit / 10 bit |
| | Sensitivity | ISO 100-960 |
| Genlock | Trilevel Sync | Master / slave switchable |
| Modes | YUV 4:2:2, 10 bit | 1080p23.97 / 1080p24 / 1080p25 / 1080p30 |
| Interfaces | 3G-HDSDI | 2x HDBNC |
| | Genlock-In | HDBNC |
| | Power + RS-485 | Hirose |
| System Features | White balance | Auto / manual |
| | Colour space YUV | REC 709 |
| | Auto control | AGC |
| | | Auto white balance |
| | Timecode | REC RUN TC embedded in CinemaDNG |
| Power | Voltage |  6 – 36 V DC |
| | Consumption |  3.5 W |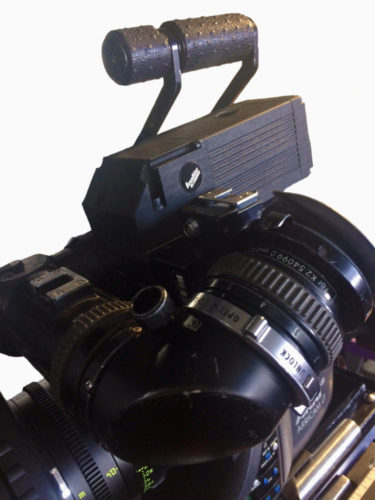 Not final design – subject to change without prior notice