Tiny 3G-SDI Camera - Global Shutter - 60p - 12 stops DR
1/1.2″ Format  Sensor
Latest  Global Shutter Pixel Architecture
High Dynamic Range
Low Noise
YUV 4:2:2 & 12bit RAW  simultaneously (not available yet)
No CCU – fully self contained
Size only 32 x 32 x 65 mm
indieDICE  is our latest amazingly small global shutter HDSDI camera. It is based on a global shutter sensor of the latest generation with 12 stops dynamic range and low noise.
The camera is fully self-contained and does not need a CCU for operation and control. Everything is integrated in the tiny body.
Two HD-BNC connectors output pristine HDSDI signals in YUV 4:2:2 and RAW (not available yet). A third HD-BNC connector accepts Trilevel-Sync Genlock signals for easy synchronisation of multiple cameras.
indieDICE can be controlled via standard RS485 bus. A wireless remote control is available. It is especially well suited for broadcast application due to its Multi-Matrix Color-Control feature. With this shading function, matching multiple cameras in a live broadcast environment is a breeze and conforms to industry standards.
indieDICE  is the ideal module for compact and elaborate Virtual-Reality camera systems. It is available in angled and OEM versions and can be mechanically positioned very close together in every conceivable arrangement. Full synchronisation, global shutter, 60fps and wireless remote control enable streamlined production workflows and facilitate stitching and VR-post-production.
TechSpecs
Sensor
Size
1/1.2"
Resolution
1920 x 1080
Readout
Progressive & Interlaced
Shutter
Global
Pixel Size
5.86 µm
A/D Converter
12bit
Sensitivity
400 ASA
Genlock
Trilevel Sync
Master/Slave switchable
Mount
C-mount
standard
PL-mount
optional
Modes
YUV 4:2:2 10 bit
1080p24 / 1080p25 / 1080p30 / 1080p50 / 1080p60
1080p23.98 / 1080p29.97 / 1080p59.94
1080i50 / 1080i59.94 / 1080i60
RAW, 12 bit (not available yet)
1080p24 / 1080p25 / 1080p30 / 1080p50 / 1080p60
1080p23.98 / 1080p29.97 / 1080p59.94
Interfaces
3G HD-SDI
2x HD-BNC
Genlock-In
HD-BNC
Power + RS-485
Hirose
AUX connector (I2C, UART)
Hirose
Status LED
RGB
System-Features
Gamma
Standard & Custom LUTs
White Balance
Auto/Manual
Colour Space YUV
REC 709
Colour Space RAW
RGB 4:4:4
Profiles
User Profiles can be stored
ƒAuto start with last settings
Restore Factory Defaults
Auto-Control
Auto-Shutter
Auto-Gain
Auto Iris / Lens control
 via AUX connector (I2C, UART, Power)
Timecode-Out
embedded in SDI
Power
Voltage
 6 – 36 V DC
Consumption
 3.5 W
Dimensions
Size w/o lens
 32 x 32 x 65 mm
Weight w/o lens
 approx. 120 g
Environmental
Operation
 0 – 55 °C, 10 – 90 % RH
Storage
 -20 – +70°C, 10 – 90 % RH
Use Cases
Professional Broadcast
Virtual Reality
Feature Films (action-shots)
Commercials
Live Sports events
Live Concerts
Reality Shows
OB Vans/Trucks
LTE and Web-Streaming with TARGA – LTE field streaming unit
Best camera for "in car" motorsports
Miniature PTZ-camera systems
Image Processing Features
ƒREC709 / LOG switchable
Automatic Defect Pixel Correction (auto-calibrate)
ƒ4 Channel Sensor LUT (RGBG) programmable
ƒBlack Level, White Level, Master Black
ƒWhite Balance / Auto White Balance
ƒFlare compensation
ƒHigh Quality Debayer
ƒColour Matrix / Colour Correction
ƒColour Temp Settings / Profiles
ƒMulti-Matrix Colour Correction (12/24/32 angles)
ƒRGB LUT programmable
ƒDenoise Filter
ƒDetail Enhancer
ƒColour Post Processing (luminance, contrast, saturation, hue)
ƒSDI-Range adjustable (black / white – legal / extended)
Dimensions
Related Products
indieREMOTE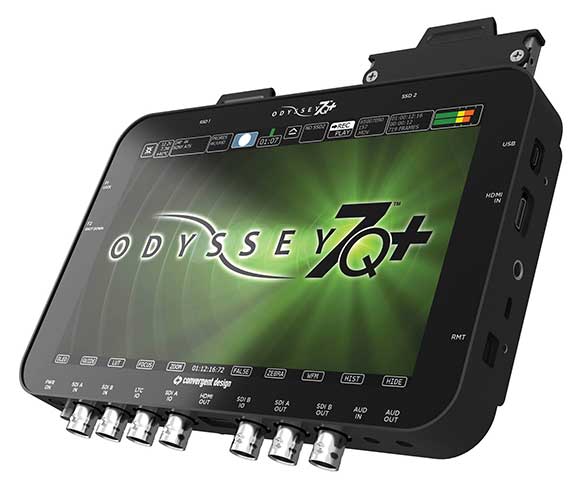 Odyssey7Q+